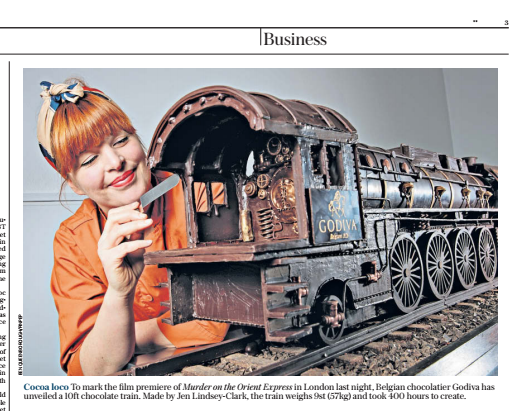 Chocolate train for Godiva Chocolate and 20th Century Fox, takes 3 months to create !

Chocolatician reviews and articles
"We took part in a family chocolate workshop to celebrate my daughter's birthday and it was such a special and unique way to celebrate! Jen has thought of every last detail to make it a wonderful session, and the chocolate piped birthday message on my daughter's place mat was a very lovely touch. We learnt about the process of chocolate creations and it was a very hands on experience, with ample opportunities to have a go at something ourselves. Great value for money too as we left with our incredible chocolate sculptures and fun lollipops.
If you're looking for something a little bit different, then I can't recommend this highly enough. Jen is friendly and fun and she made the day really memorable for us. So exciting that this is right on our doorstep in Shoreham!
We will definitely be back for more! " Natasha Kimber , Shoreham By Sea
"I can't say enough wonderful things about the class we did with Jen. It was an amazing birthday gift for my father-in-law. We learned so much, ate so much chocolate and walked away with all sorts of cool stories to tell. Thank you for making the occasion so memorable! " Jamie Redmond, Vermont, US
"The glory of the Chocolatician's work is that - not only do the wonderful chocolate sculptures look beautiful - but the chocolate is the best I have ever had. It is absolutely divine. It is very difficult to resist eating the amazing art quickly and without sharing. The care taken into making sure the flavour in the product is premium really sets this business apart from competitors. Don't think, just buy." Natasha Coverdale, Hove, East Sussex.

"Just wanted to say thanks so much for really amazing party you provided for Gloria and her friends. They couldn't stop talking about it, the things they made were beautiful (and delicious) and overall am just totally impressed and will tell everyone about it as really I can't imagine anyone not having fun."
Victoria Dimmock, West Sussex. Feb 2019

"Hands down this experience is the best I've had by far on Airbnb. We had been planning this day trip from London to take Jen's course and had a hunch it would be good based on prior feedback, but our day in Shoreham was so special. It's pretty rare to be able to spend time with a world-class artist and artisan who is simultaneously exceptionally talented and a great instructor. The content of the course was perfect a nice balance of theory and practical hands on chocolate making, engaging for both a 7 year old and a 47 year old! We learned so much and made great memories."
Kathy, London, March 2019


More on the Chocolate steam train created for Godiva and 20th Century Fox. https://www.independent.co.uk/life-style/food-and-drink/godiva-creates-10-foot-chocolate-replica-of-orient-express-a8080541.html
A word from UkTV about the full size Benedict Cumberbatch created in 2014, we created…lovingly hash tagged as #chocobatch !! https://www.youtube.com/watch?v=5_xK52NWTsY



And then came the Cumberbunnies!!!!
https://www.vanityfair.com/hollywood/2016/03/benedict-cumberbatch-chocolate?verso=true
https://www.telegraph.co.uk/food-and-drink/news/cumberbunnies-will-allow-you-to-eat-benedict-cumberbatch-this-ea/
https://www.dailymail.co.uk/femail/article-3470922/Benedict-Cumberbatch-immortalised-chocolate-Easter-Cumberbunny.html
https://www.boredpanda.com/chocolate-easter-bunny-benedict-cumberbatch-cumberbunny/?utm_source=google&utm_medium=organic&utm_campaign=organic
https://www.gq.com/story/the-cumberbunny-is-here-and-its-terrifying
https://www.theguardian.com/commentisfree/2017/apr/09/funny-money-for-a-cumberbunny-benedict-cumberbatch
https://mashable.com/2016/03/03/chocolate-cumberbunny-benedict-cumberbatch/?europe=true#_kVsVuWN78qG
https://people.com/food/benedict-cumberbatch-chocolate-bunny-easter/
https://www.stylist.co.uk/life/benedict-cumberbatch-easter-bunny-chocolate-egg-chocolatician/63558